I don't think I've completely wrapped my head around the fact that the baby of the family will soon be the big sister. In my mind she is still such a baby, but when Lael was this age I saw her as such a big girl. So funny how your perspective changes as each child comes along.
1. We're happy to now be a little over 14 weeks along. My children are glad, too. Whoooo boy... was I sick. This pregnancy I think was the worst in that department, but at the end of my rope when I was about 8 weeks along I decided to finally try the Phenergan that was prescribed to me by my OB.
People... this drug is a modern day miracle. I'm so mad now that I didn't take it when I was pregnant with Lael and Ruthie. The catch is that is makes you sleepy. BUT, if you take it at about 9 pm then it will make you sleepy while you're sleeping. Perfect!! It helps me get through the night and even lasts through the whole next day so much that my food aversions are gone, my appetite is back in full force, the constant car sick feeling I was having is gone and I can actually brush my teeth without losing my breakfast. THAT in and of itself is something to celebrate. Sometimes I still have that uneasy feeling, but on the whole, I'm like a different woman. Just ask my husband.
2. You can see Lael wearing this same onesie here as the "big sis" when we were expecting Ruthie.
3. This baby is yet another answered prayer. We had prayed intentionally and specifically together in July that the Lord would give us another baby that month, and in His mercy, He did. We are so thrilled that Ruthie will have another sibling so close to her in age. These two will be 21 months apart.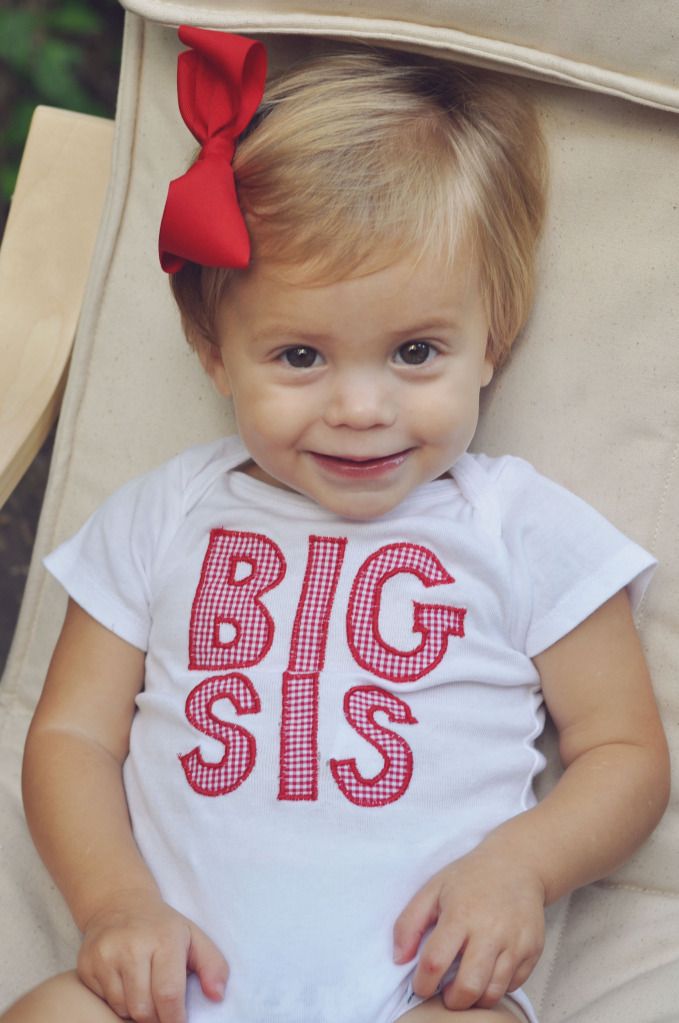 4. I'm so happy to say that I got to tell my Daddy the good news before he passed away. What a blessing it was to be able to share that with him and to see his excitement over this new life. It was the weekend right after we found out and also when we got the news of the newest terrible diagnosis. The first thing he said when I told him I was expecting, after of course, "congratulations" was, "Well, where are you gonna put her? In the laundry room?" I think it's so funny that he automatically assumed that this baby is a girl and then was already thinking about where everyone was going to sleep. And for the record, we DO have a room for this baby. It won't be in the laundry room. :)
5. I experience a moment of sheer panic pretty much everyday when I think about having three children ages three and under. And then I wonder, "Are we CUH-RAZY?!" To which, many of you might be thinking, "YES!!!"
BUT, we are just so thankful to have them.
So thankful that they have been entrusted to us by a loving God who has heard our prayers and fulfilled one of deepest desires.
Not once. Not twice. But three times.
To God be the glory, great things He has done.
Pin It